RZExposure Dashboard Documentation
Documentation for the RedZone RZExposure Dashboard.
Version: 1.0.0
Introduction
This manual was designed to provide hands-on instruction to you, the user. Proceeding through the manual, you will learn how to navigate the RZExposure Dashboard, utilize the tools provided, and determine where your portfolio may have opportunities for growth.

The RZExposure Dashboard is primarily designed to enable the visualization of your policies in relation to Correlated Risk Zones. The dashboard also provides quick statistics by zone, detailed downloads, and other features to assist with assessing your portfolio.
---
Providing Data to RedZone

In order to gain the most value from the RZExposure Dashboard, customers should set up an automated feed to update their portfolio as often as wanted. To learn more about how to set this up, please visit the Data Feed page found here.
---
Logging In as a New User
To log into the RZExposure Dashboard, use this link.
Upon clicking the link above, you will be brought to the RedZone Login page, as seen below.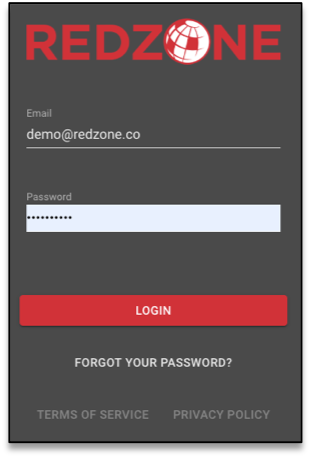 If you have forgotten your password, simply click on the Forgot Password button at the bottom of this window. This will prompt a window which will ask for you to submit your username and click hand in.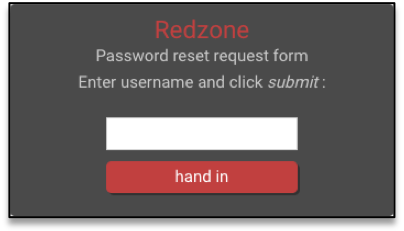 Upon doing so, you will be sent an email providing instructions on how to reset your password. Once you have reset your password, you will now be able to access the Dashboard with your new password.
---
Operating Instructions
The RZExposure Dashboard offers three different zone sizes: Small, Medium, and Large.
In order to switch zone sizes, simply select the drop-down associated with the size of interest, as pictured below.

---
Navigating the Dashboard
The Dashboard offers many features that assist with portfolio management, including but not limited to, high-level portfolio analysis, tool suite, and custom map layers.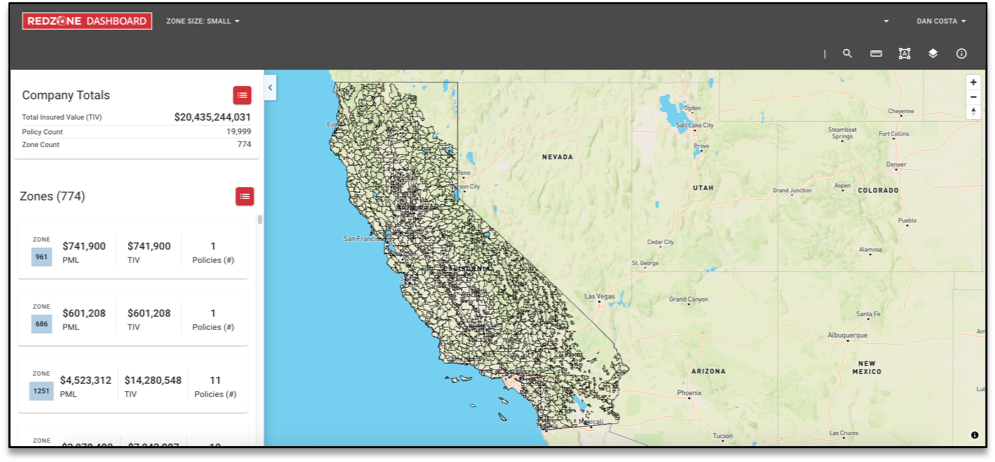 Company Totals
Along the left-hand side of the browser you will find high-level information about your most recent portfolio within the Company Totals section. Clicking this button (imageHere) will prompt a table of your entire portfolio.
Additionally, each zone will be listed with customer specific information, to include total policies within the zone, Probable Maximum Loss (PML), and Cumulative Total Insured Value (TIV).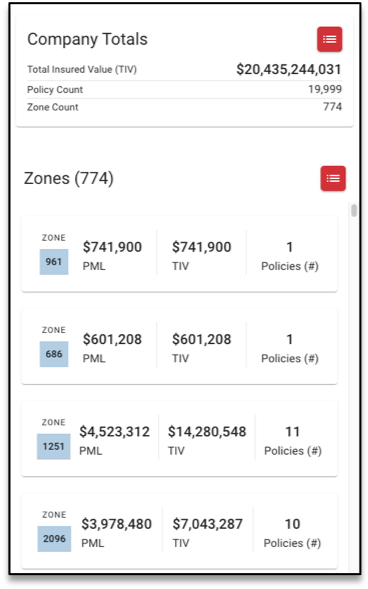 Clicking on a given zone from this left-hand panel will open the Zone Profile which will provide a graphical interface as well as detailed information about the policies within the selected zone.
Clicking on this red icon (imageHere) located to the right of the Zone Number, will open to a table specific to the policies within the selected zone. This table provides filtering on different fields as well as downloading this view to an Excel spreadsheet.

---
Tool Suite
The RZExposure Dashboard has a number of tools designed to optimize your experience. Please note that certain tools are available at all times, while others become visible in selected views. To see a more in-depth description on how to use the Dashboard tools, please visit the FAQ section.
Search Tool

Clicking the Search tool displays a search box. You can search the map by typing an address into this box.
Measure Tool

The measure tool allows for both point-to-point and multiple-point measurements.
Policy Selection Tool

The Policy Selection tool allows you to generate a custom polygon to select policies. After defining a polygon, you can export the list of policies to an Excel spreadsheet for further analysis. Due to system limitations, only a certain number of policies can be selected.
Map Legend

Within this panel you will be able to identify different map icons and color schemes used throughout the Dashboard.
---
Custom Map Layers
Fire History
Overlayed fire perimeters from 1980 - 2019, to help identify where past fire activity has been most significant.
Burn Probability
Raster layer displaying burn probability at any given location for the state of California. A darker color indicates a greater burn probability.
Choropleth
A heat map identifying the zones with the highest 500 year Probable Maximum Loss (PML). The darker the color indicates the higher value of PML's for the zone.
---
Help
For helpful resources, click on your name in the upper right-hand corner. This will provide a drop-down of options, as seen below.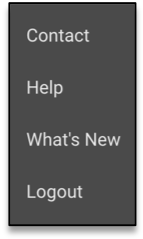 Contact
By selecting this option, a pop-up window appears which will prompt an email template to techsupport@redzone.co.
Help
Clicking this option will open a new tab in your browser, containing help files for the RedZone Dashboard.
What's New
By clicking this option, a new tab will open in your browser, containing release notes for each version update.
Logout
Clicking this option will log you out of the RedZone Dashboard.